Chief Darrell White
Presque Isle Fire Department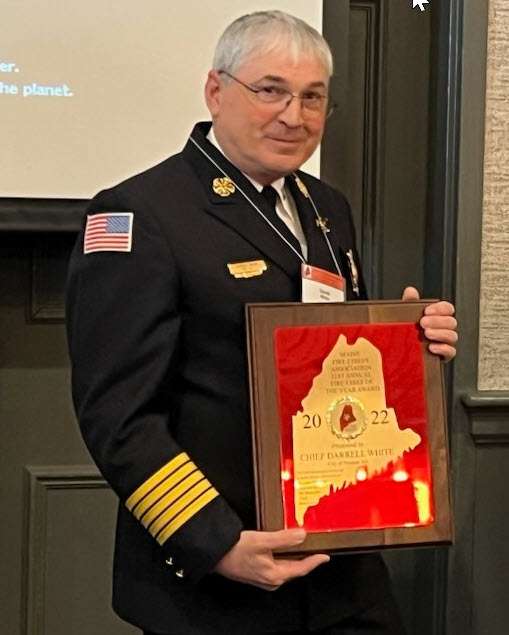 The Maine Fire Chiefs' Association congratulates Fire Chief White, his family, and the City of Presque Isle on his recent award. Chief White received the 2022 Maine Fire Chief of the Year Award and recognition for his outstanding service to the Maine Fire Chiefs' Association as President for the last two years. Chief White is truly one of a kind and represents Maine's fire service well. Please join both the membership and the Board of Directors in congratulating him on these accomplishments.
Previous Award Winners
2021 – Chief Michael Robitaille, Town of Yarmouth
2020 – Chief John Duross, City of Saco
2019 – Chief William Gillespie, Town of Liberty
2018 – Chief Thomas Higgins, City of Bangor
2017 – Chief Scott Susi, City of Caribou
2016 – Chief Kenneth Brillant, Town of Brunswick
2015 – Chief B. Michael Thurlow, Town of Scarborough (Retired)
2014 – Chief Charles Hammond, Town of Windham (Retired)
2013 – Chief Roger Audette, Augusta
2012 – Chief Gary Petley, Clinton
2011 – Chief Stephen Nichols, Sr., Kennebunk
2010 – Chief Kevin Guimond, South Portland
2009 – None
2008 – Chief Kenneth Dixon, Andover
2007 – Chief William Hussey, Peru
2006 – Chief Jeff Cammack, Bangor
2005 – Raymond Parent, Sanford
2004 – William St. Michel, Durham
2003 – Michel A Lajoie, Lewiston
2002 – Darrel Fournier, Freeport
2001 – Lyle Chadwick, Burnham
2000 – Larry Bradley, Augusta (Deceased)
1999 – Norman Cyr, Madawaska
1998 – Robert McCleery, Farmington (Retired)
1997 – Clifton Smith, Auburn (Retired)
1996 – Roy E Woods, Caribou
1995 – Jethro Pease, Morrill
1994 – Channel Bouchard, Van Buren (Retired)
1993 – Robert Butters, Norway
1992 – Philip McGouldrick, South Portland
Nomination Criteria
Nominee must be either a current member or recently accepted life member (within the last 12 months) of the Maine Fire Chiefs Association.
Nominee must have at least three years experience as a Chief.
Nominee must be actively involved in, but not limited to, the following:
County or mutual aid fire organizations
Fire prevention education on a local basis
Training and Safety improvement with their Department
Local community involvement (non-fire service)
Regional, State or National Fire Service Organizations
Nominee must be recognized as a leader in the fire service by their peers.
Nomination Procedures
Nominations shall be accepted from any municipal official or any fire related County, State or local organization.
Nominations shall be accompanied by a letter explaining how the nominee meets the above criteria.
The selection committee shall be appointed by the President of the Maine Fire Chief Association.
Two Past Presidents of M.F.C.A.
Two members of the Board of Directors of the M.F.C.A.
One municipal official, (i.e., Mayor, Councilperson, Selectperson, etc.) from the previous year recipient community
One M.F.T.E. Director or designee